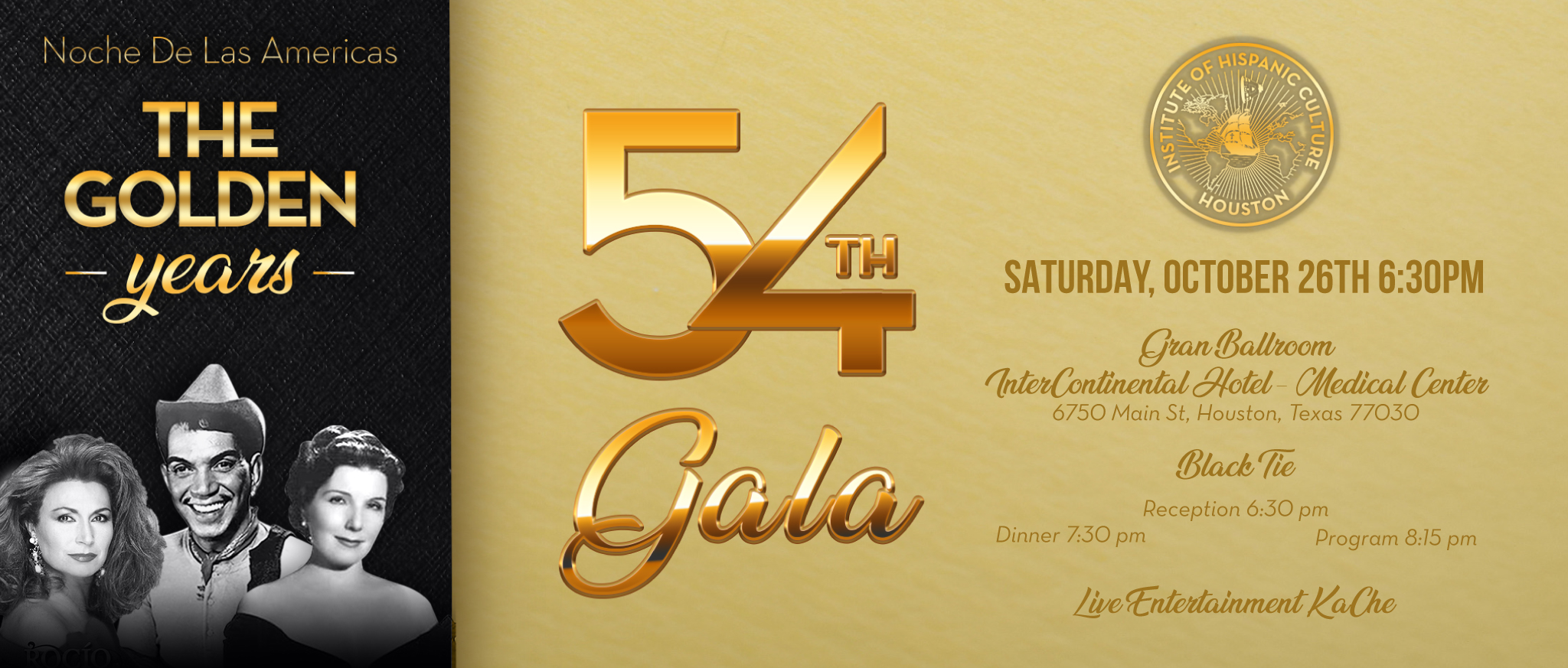 Sponsor Options
Institute of Hispanic Culture of Houston - IHCH
Platinium – $10.000
A Premium table for 10 people, with logo
Special recognition of your company's support as a Platinum Sponsor on all printed marketing materials, logo on program front page, full-page advertisement.
Special mention as a Platinum Sponsor on the display screen at the Gala and by the Master of Ceremony.
Company banner placed at the entrance and/or inside. Scholarship Award in your family/Company name during the in the amount of $6,000 –to student(s) preselected by IHCH
Logo and hyperlink on the Homepage of the IHCH
website for 1 entire year
SILVER – $ 5.000
A table for 10 people, for you and your guests
Mention as a Silver Sponsor on the display screen at the Gala and by the Master of Ceremony and in some printed materials
Logo on the back page of the Program and in website Scholarship Award in your family/ Company name, during the event in the amount of $2,000 –to the student(s) preselected by IHCH
GOLD – $ 7,500
A Premium (side) table for 10 people,
Public recognition as a Gold Sponsor on all printed marketing materials, logo on the back of the program and half page advertisement.
Mention as a Gold Sponsor on the display screen at the Gala and
by the Master of Ceremony
Scholarship Award in your family /Company name, during the event in the amount of $4,000 –to the student(s) preselected by IHCH
Logo and hyperlink on the Homepage of the IHCH
website for 6 months
BRONZE – $ 2.000
A table for 10 for you and your guests Mention of your sponsorship on the display screen Your family or company name among the printed list of sponsors
BENEFACTOR – $2.000
Two Tickets for the Gala, premium seating
One Scholarship given in your name; name/logo recognition with logo
Acknowledgment of your family or company's support in event-related publicity and program.
Others Sponsor opportunities
Choose one
In-Kind Donation
Donations of this kind help us reduce event expenses, and such valuable resources would certainly allow for additional scholarships. Gifts and Prizes for the Sideshow Raffle and Auction are greatly appreciated.
Advertisement Opportunities
One Page add in our Program Donation $500
Half Page add in our Program Donation $250
Tickets
Individual Tickets: $200
Members: $175
Couple Tickets: $400
Members: $350
MORE INFORMATION
Email us at institute@ihch.org or mail a check to 3315 Sul Ross, Houston, Texas 77098