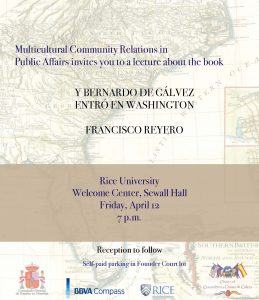 Rice University Multicultural Community Relations in Public Affairs and Granaderos y Damas de Gálvez invite you to the presentation and lecture of Francisco Reyero's new book: "Y BERNARDO DE GÁLVEZ ENTRÓ EN WASHINGTON".
Learn how "the Spanish hero of the American Revolution" has been rediscovered by the American political spectrum.
Rice University Welcome Center, Sewall Hall
Friday, April 12
7:00 p.m.
After the presentation:
-Book Sales and Signing
-Spanish Tapas and Wine Reception
EVENT IS FREE but requires a reservation https://galvezbookpresentation2019.eventbrite.com
Self-parking in Founder Court lot.
DRIVING DIRECTIONS click here:
https://goo.gl/maps/bXHYun1nYB82